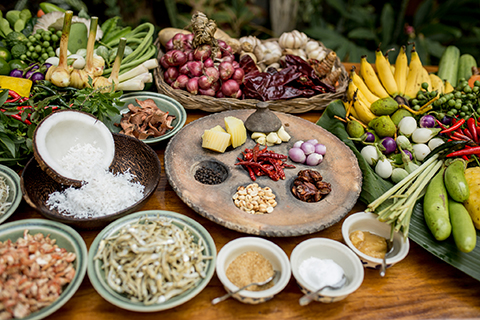 Course #1
• Thai style stir-fried noodles / Pad Thai
• Fish cake / Tod Mun Pla
• Yellow curry with fish and Kaffir leave / Chu Chee Pla
• Pumpkin in sirup /  Fuk Tong Cheum
• Lime juice / Nam Manao
Course #2 (vegetarian)
• Vegetable spring rolls / Poh Pia Tod Pak
• Stir-fried mushrooms with herbs / Hed Pad Sa-muhn Prai
• Pumpkin curry / Gang Fuk Thong
• Banana in coconut milk / Glouy Buad Chee
• Lemon Ice Tea / Cha Manao
Course #3
• Spicy seafood salad / Yum Ta Lay
• Green curry / Gang Kiew Waan
• Stir-fried beef with Thai basil / Pad Ka Praw Nue
• Fried Banana / Gluay Tod
• Tamarind-honey juice / Nam Makam Nam Peung
Course #4
• Masaman curry with chicken / Masaman Gai
• Stir-fried chicken with garlic and pepper / Gai Pad Kratium Prik Thai
• Spicy glass noodle salad / Yum Woon Sen
• Sweet potato in sirup / Mun Cheum
• Mixed herbs juice / Nam Samoon Prai Ruam
Course #5
• Spicy BBQ beef salad / Yum Nua yang
• Vegetable Panang curry / Pa Nang Pak
• Shrimp in spicy and clear soup / Tom Yum Goong
• Mango with sticky rice / Khao Niew Mamuang
• Lemongrass juice / Nam Takrai
Course #6
• Stir-fried beef with yellow curry / Pad Ped Nua
• Coconut soup with galangal and chicken / Tom Kha Gai
• Spicy cucumber salad / Yum Taeng Gwa
• Preserved pineapple / Supparod Chae Im
• Coconut lassi / Maprao Lassi 
Course #7
• Spicy chicken salad with rice power and herbs / Laab Gai
• Papaya salad / Som Tum
• Spicy and clear soup with chicken and herbs / Tom Saeb Gai
• Thai coconut custard with sticky rice / Khao Niew Sung Ka Ya
• Ginger juice / Nam Khing
Course #8
• Steamed fish with lime sauce / Pla Nueng Ma Nao
• Sweet and sour chicken / Priew Wahn Gai
• Yellow curry with chicken / Gang Gati Gai
• Sweet potato in coconut milk / Mun tom Buad
• Thai iced coffee / Nam Kopi
Course #9 (family and kids)
• Chicken satay / Gai Satay
• Fried rice / Khao Pad
• Shrimps with tamarind sauce / Goong Makam
• Grains in coconut milk / Tom Buad Tanya Peud
• Seasonal fruit shake / Nam Ponlamai Pun
Booking conditions:
*Every course has a minimum of 2 people.
*Shared course: the menu will be a mix of your and others' requests, therefore we cannot guarantee your preferenced dishes. Nevertheless, each participant can choose one of their favorite dishes.
*Private and family course: Guarantee of all your preferenced dishes.
*If you are only 1 person, please check with us before.
*We cook one course per one time, maximum 3 main courses or starters + 1 dessert + 1 drink.
*You can swap dishes from different sets of menus.
To make a reservation, please contact us:
Monday – Saturday, 9.00 a.m. - 6.00 p.m.;
Tel: + 66 (0) 87-8873161, + 66 (0) 81-8266899
On Sunday please contact us by email:
minascookingclass@gmail.com